5 Trends in home decoration for 2022
Decorating your home is an important issue. We all want to have a beautiful, well-kept and tastefully decorated house. Especially the last two years and through the situations we all went through there is an even greater need to feel better in our space. Home decor is of course a personal affair, but we always take a look at other homes or decor magazines to get ideas.
So we looked and picked you 5 trends that impressed us and that you can combine them with our own unique TRAPEZE cushions.
The trends in home decoration in 2022 The trends in home decoration in 2022 are many, adapted to our needs and easy to adopt. Here are 5 of them.
Minimalism in home decoration and cushions in 2022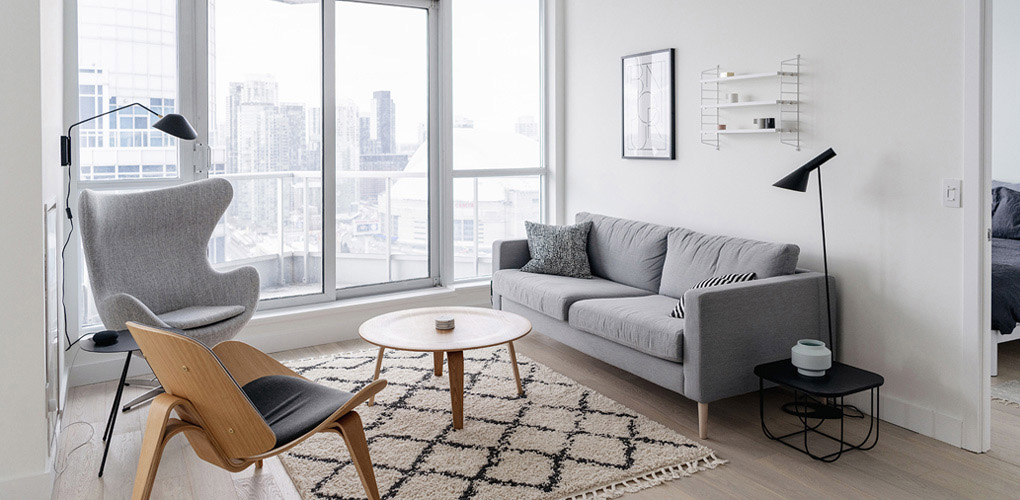 Minimalism is a key element in some specific decoration styles, such as Scandinavian. 2022 seems to be extending its influence to the general trends of home decoration. Minimalism combines the austerity and functionality of the space. The minimalist decoration gives importance to one or two large pieces of furniture that define the space, without loading our space with a lot of decorations and ornaments. We could say that this shift to simpler decor is another consequence of the pandemic and our need for comfort. The cushions that you can combine from our collections are many! Minimal design such as TORSO, NIPPLE, MUSE or FABULA in white or beige cotton fabric will definitely fit very well. See them in the BACHELOR and BAJA BLUES collections. While at the same time if you want to add a little color and more abstract designs to your space, then we would definitely recommend the LARA decorative cushion in 4 different color combinations. Discover them in the AL FRESCO collection. Try it!
Multifunctional spaces and furniture
We said that the goal of this year's decoration tips is comfort and functionality. That is why paying attention to the exploitation of any space can be the ideal solution for small spaces. The use of dividers, smart storage media and furniture, which usually perform more than one function, are considered essential. In 2022, the time has probably come to find in our home the comfort and relaxation that we are entitled to and not to constantly worry about its maintenance. Our decorative cushions can fit comfortably in these spaces as well, combining more classic designs such as DELPHINE, PAULINE or BENJAMIN from the AL FRESCO series, or modern and unique ones such as FOXY, FINGERTIPS or BODYSCAPE from the BACHELOR series. So, very easily your space will be transformed, depending on your aesthetic.
Nature and home decoration in 2022
Another trend in home decoration in 2022 that arose from our needs in previous quarantines. Locking up at home for a long time and being away from nature made us wanting to bring some of nature to us. Indoor plant sales have increased both to change our space and to feel closer to nature again.There is a wide variety of indoor plants that do not need special care if you are bored easily, but at the same time give grace and color to our space. If again many plants do not suit your style, you can use "nature design" from our decorative cushions. Designs such as MADELEINES, MIMOZA or OTTILE from the AL FRESCO series will be reminiscent of nature with butterflies or leaves and vases with flowers.
Vintage objects and decorative cushions
Adding some vintage items to an otherwise more minimal home will give a warmth and character to your space. Vintage items are back in fashion in recent years and you can diversify your space with small touches of such products. You can get vintage furniture in more intense colors (orange, brown, green) and match any space you have. Our decorative cushions are here again to embrace this space as well. With special designs that generally match vintage aesthetics such as MADAME BUTTERFLY, JAZZ or DEAR DEER. Try them and trust us!
Home & office, combining the right decorative cushions
Because these last two years our home has been for some time our workplace as well, we had to find a way to make it as good as possible. That's why the decoration for 2022 suggests solutions to combine both. One of the trends is the best possible integration of a home office. And if space is not enough, then you can use smart furniture. Wall-mounted or folding cabinets will give you solutions. There are many designs on the internet that you can make yourself, depending on the space and the money you want to spend. The only sure thing is that here again, with our variety of designs we can help you! Classic designs such as CAVALIER, NARCISSA or NIVENS from the BACHELOR series are available to meet your needs.